Learn how to redeem any physical items attached to NFTs you own through the RealNifty marketplace.
The RealNifty marketplace is a landmark in physical/digital NFTs. This is why we find it so important to get the redemption features right when it comes to receiving your attached physical items in the real world.
It's a very simple process to redeem physical items, but this guide will give you an overview of how it all works.
Shipping Options
Before you even purchase an NFT, it's a good idea to check the shipping option that the creator of the NFT has chosen for the delivery of physical items and that you are happy with it.
RealNifty offers three delivery options: Fully Handled Delivery, Label Delivery, and Self-Shipment.
You can see which shipping method was chosen for the NFT by heading over to the NFT's page and opening up the 'Physical' section at the bottom of the page

For example, in the image above, you can see the shipping type shown as Fully Handled Delivery. There is a tooltip next to this option to find out more details about this delivery type.
Delivery Types
RealNifty offers different shipping methods so make sure to check which one is attached to your NFT before purchase:
Label Delivery
Label delivery means the creator of the physical item packages the item to pre-determined criteria themselves and attaches pre-paid labels for delivery.
RealNifty or the creator will contact you via email with any details and tracking information during the process.
Please be aware, if you choose to have this option available, you must be prepared to stay in contact via email/the RealNifty messaging service during the delivery process.
The redeemer of the physical item pays any delivery fees.
Self-Shipment
Self-shipment means the creator delivers any physical item once it's redeemed.
It is the creator's responsibility to make sure the item is packaged correctly, keep in contact with the redeemer via email/the RealNifty messaging service and follow through in a timely manner.
It is the creator's responsibility to pay the delivery costs of physical items when using self-delivery.
The creator may or may not cover delivery insurance costs when sending the physical item. Make sure to confirm this with the creator if you want your delivery to be insured.
This option is only available to creators that we trust and have been vetted.
Fully Handled Delivery
RealNifty also offers a third option for those higher priced items: Fully Handled Delivery. You can contact RealNifty before redeeming to find out more details and costs of this third option via info@realnifty.xyz.
Redeeming a Physical Item
First of all, you can only redeem physical items on NFTs you own that have a physical item attached. Make sure to check on any NFT page before purchasing if there is a physical item attached.
To view any NFTs you own, connect your wallet and click on your profile image (or coloured square if you haven't set one up) in the menu bar. Choose 'My profile'. From there you will be able to view any NFTs you own.
Choose the NFT you want to redeem. You can confirm the NFT has a physical item by checking for the 'open box' symbol underneath the NFT image on the marketplace page or the specific NFT page.
If you own an NFT that has a physical item attached, you will be able to see the below redemption option:

You redeem a physical item attached to an NFT by clicking this 'Redeem Now' button.
You will then be taken to a popup menu asking you to input your address details. This is so your physical item can be delivered to you in the real world.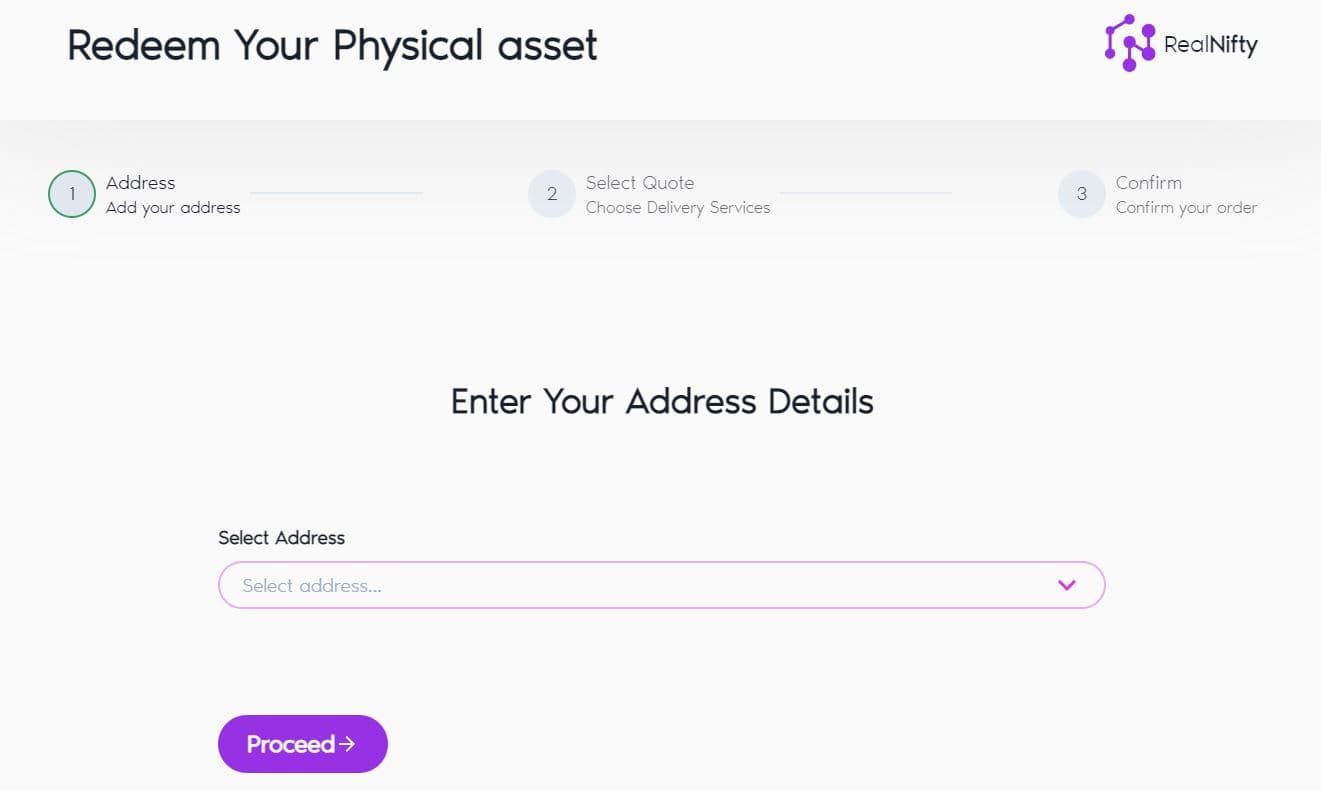 Once you've input your details, click proceed. If your shipping type was Fully Handled Delivery or Label Delivery, you will now be taken to a page to choose your delivery options.
At RealNifty we want to give the users choice, so you will usually be able to choose from a range of delivery options depending on where you are based in the world and the origin of the physical item you are redeeming.
Choices of delivery (economy or standard for example) can cost different prices - there may even be options for white-gloved delivery service in some cases for those more expensive items.
Once you have chosen your delivery option, click 'book now' on your chosen option.
You will then see a box telling you that your order has been placed and invited to click through to complete payment of delivery.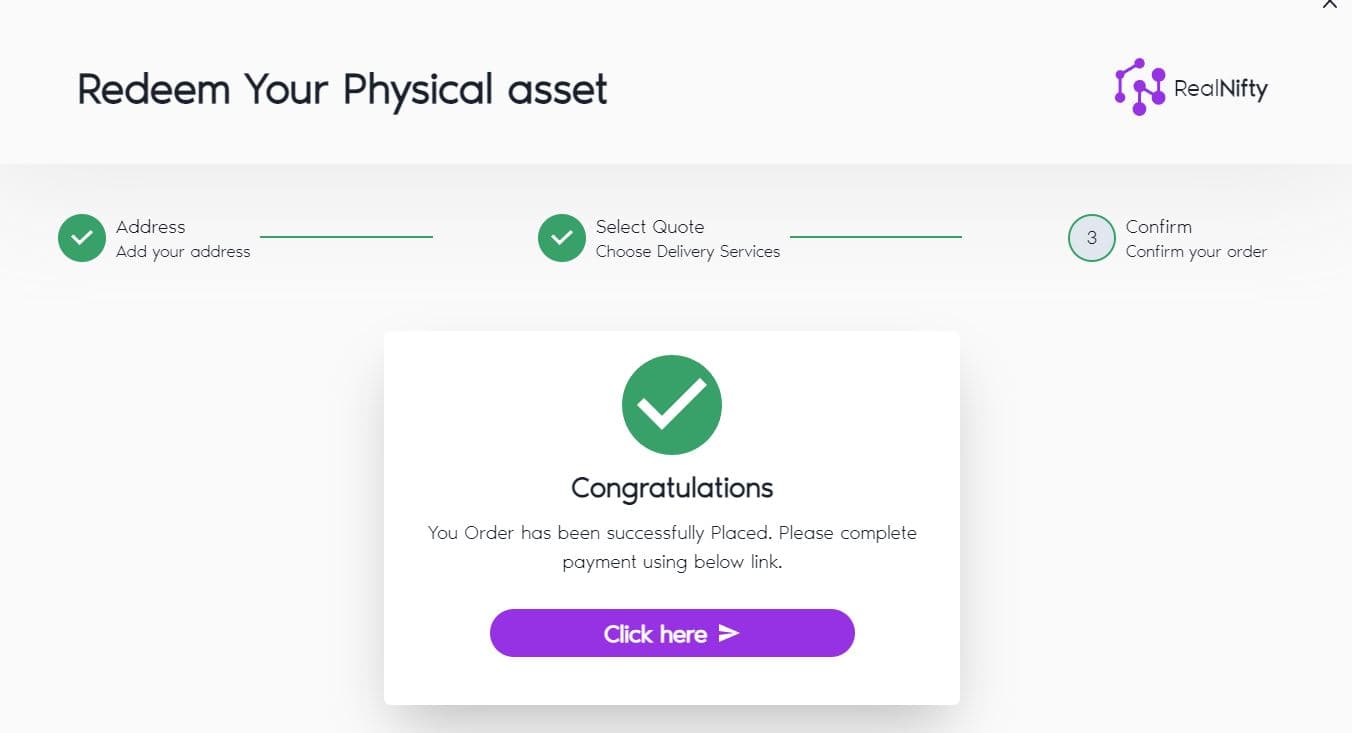 PLEASE NOTE: If you do not complete payment within 7 days, your delivery will be cancelled. You will have to contact RealNifty in order to rebook delivery - this might not always be possible so please make sure to make payment straight away where possible.
You are able to return to the payment screen at any time over the 7 days by going to the page of the NFT you are redeeming and accessing the below section.
To pay, you will be taken to our payment gateway. Here, you can check delivery details and click 'pay'.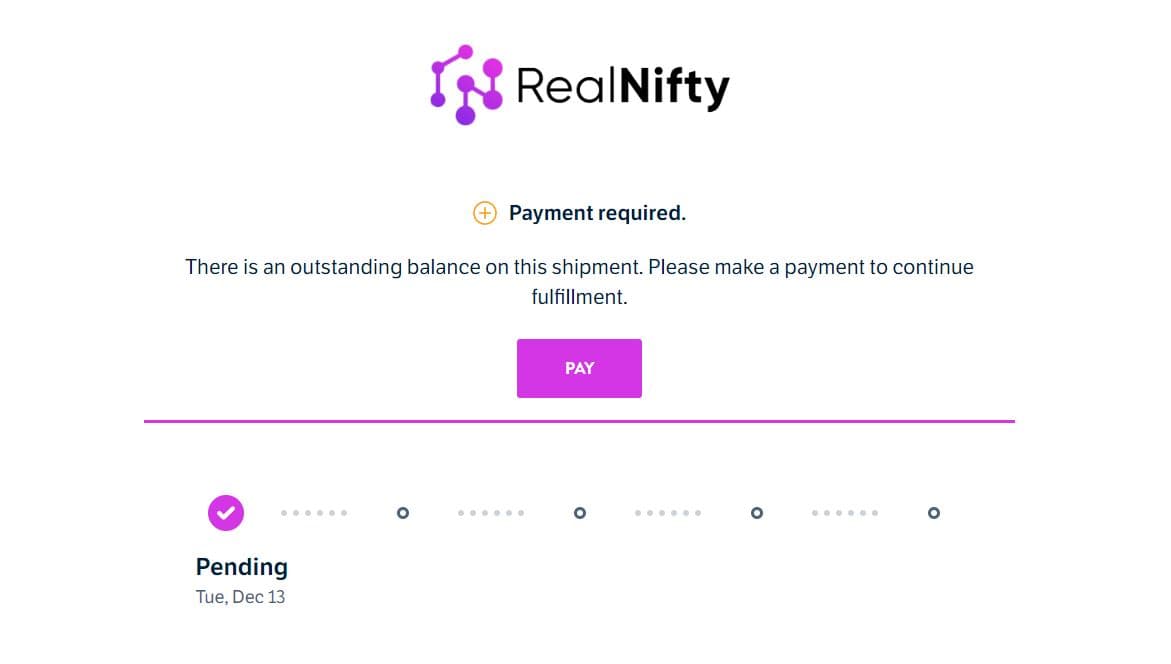 You will then be asked to input your email address and card details and submit.
Once submitted you will receive an email as confirmation and be able to track your delivery. Any other correspondence about delivery will be handled over email.
If your shipping option was Self Shipment, the creator will be packing and sending the physical item themselves and you won't have to choose the delivery options or follow the payment instructions highlighted above. The creator will be paying for delivery. Once you have input your delivery details, the creator will reach out to you via email/the RealNifty messaging service to arrange delivery and send over any tracking details.